US Crude Inventory Above Average
US crude inventory now 6% above the five year average – Brent crude price down 17% over past 10 days
Recent government data indicate a US crude inventory surplus has been forming. The latest EIA survey shows 483 million bbls in inventory as of May 31 – 6% above the five-year average inventory level for this time of year.
A spike in crude imports at the end of May contributed to the inventory growth. Crude imports averaged 7.9 million bbls per day during the last week of May – an increase of more than 1 million bbls per day over the previous week. A decrease in oil product supply in the US also contributed to the inventory growth. Overall product supply over the past four weeks was 0.6% lower than same period last year, with gasoline supply down 1.3%, raising concern about falling domestic demand.
OPEC+ output curtailment, tightening of Iran sanctions and escalation of Mideast tensions had been providing support for crude prices since the beginning of the year. But concerns over inventory build, trade tensions and future oil demand have suddenly sent market sentiment south, causing crude prices to fall 17% over the past 10 days.
As of June 5, Brent is trading around $60 – down from $72 10 days earlier. WTI crude, the US oil pricing benchmark, is trading at a $9 discount to Brent, reflecting the continuing logistics bottlenecks in getting growing US tight oil production to market.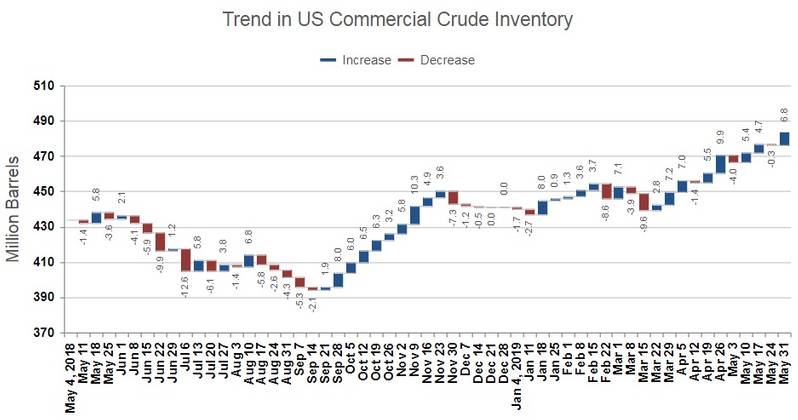 (Source: IMA)