Aker Solutions, Drydocks to Upgrade Petrojarl Knarr FPSO for Deployment at Equinor's Rosebank Field
Norway's Aker Solutions will upgrade Altera Infrastructure's Petrojarl Knarr floating production storage and offloading vessel (FPSO) to be redeployed at Equinor's Rosebank field development, offshore the UK.
Petrojarl Knarr was built by Samsung Heavy Industries in South Korea and delivered in 2014. It was operating on the Knarr field offshore Norway since 2015 until May 2022.
The development concept for the Rosebank field includes the redeployment and reuse of the existing Petrojarl Knarr FPSO owned by Altera.
Under a 'substantial' contract with Altera, Aker Solutions will perform the work in a joint venture (JV) with Drydocks World-Dubai. The FPSO upgrade will take place in Dubai, UAE.
Altera Infrastructure said:"We are happy to confirm that Altera Infrastructure has signed a bareboat charter contract with Equinor for the redeployment of the Petrojarl Knarr FPSO to the Rosebank field, west of Shetland.
The Petrojarl Knarr FPSO is a vessel perfectly suited for redeployment in harsh waters. It is a relatively new and modern asset, and it was constructed to allow for electrification, which would reduce operational CO2 emissions, as well as additional features such as vapor recovery system and closed flare on the FPSO. The vessel has available space allocated for electrical equipment in both its mooring turret and on deck."
The Engineering, Procurement, and Construction (EPC) contract announced by Aker Solutions is a combination of work with new build, demolition, and life extension (hull, marine systems, and topsides) required for the FPSO to be kept on the field for 25 years without drydocking.
The detail design will be done in Norway by Aker Solutions in collaboration with Citec Norway AS, ABB Norway AS, OneSubsea Processing AS.
---
---
The EPC work is planned to start up during the first half of 2023 and is scheduled to be completed at the end of 2025. The Petrojarl Knarr FPSO was transported to Aker Solutions' yard at Stord in August 2022 and will be stored there until the planned tow to Dubai during the second half of 2023.
Aker Solutions expects to book an order intake of around NOK 2.5 billion (currently around $251 million) related to this contract in the first quarter of 2023 in the Renewables and Field Development segment, pending a final investment decision and regulatory approvals. This order intake would reflect Aker Solutions' part of the JV's scope.
Rosebank is a UK oil and gas field about 130 kilometers off the coast of the Shetland Islands with an estimated 300 million barrels of potentially recoverable reserves.
Equinor acquired operatorship of Rosebank with the acquisition of Chevron's 40% stake in 2019 and has since been working to optimize and mature a development solution for the field, originally discovered in 2004, together with partners Suncor and Ithaca Energy.
Chevron's sale to Equinor marked its full exit from the project, for which it had planned to deploy a newbuild FPSO with a 100,000 b/d oil, 80 mmcf/d gas production capacity, with storage for about 1 million barrels. This was to be the deepest moored facility on the UK Continental Shelf. Before the sale to Equinor, Chevron had planned to have the field online in 2024.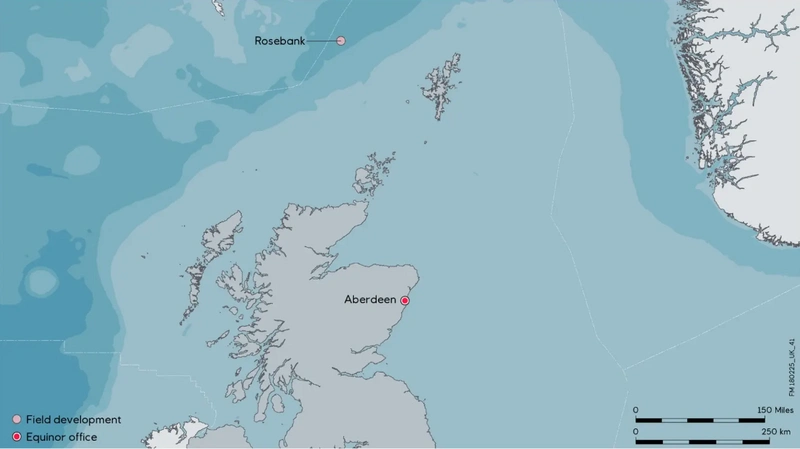 Credit: Equinor
---